Experience our stunning Chester bedframe in our Slate Grey finish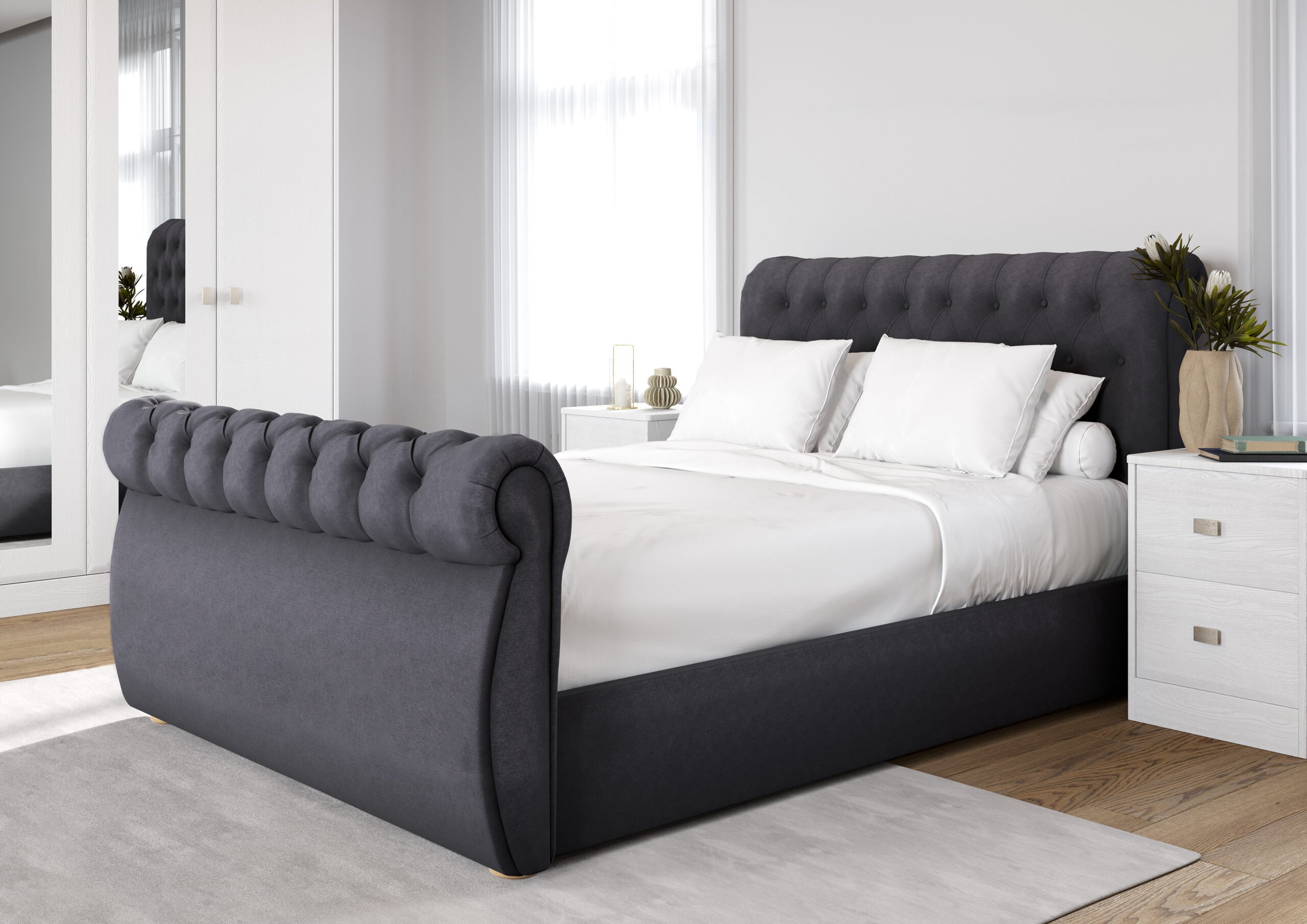 Introducing the Chester Bedframe: The Perfect Blend of Style and Functionality
Are you searching for a bedframe that combines style, comfort, and practicality? Look no further than the Chester Bedframe offered by Starplan. As a leading provider of Divan Beds, we ensure that our products are designed to provide unmatched comfort, stylish aesthetics, and convenient storage solutions to meet your needs.
The Chester Bedframe boasts a sturdy Divan base, designed to offer optimal comfort for a restful night's sleep. Its slate grey finish adds a touch of elegance to any bedroom decor, making it a versatile choice for various interior styles. The expert upholstery, carried out by Starplan's in-house team, guarantees durability and longevity. With the upholstered frame built to last, you can trust that the Chester Bedframe is a solid investment for your bedroom.
When considering the Chester Bedframe, there are several compelling reasons why it stands out as the perfect choice for your bedroom. Firstly, Starplan offers free delivery and fitting services, ensuring a hassle-free experience from start to finish. You can enjoy the convenience of having your new bedframe delivered and expertly installed without any additional cost or effort.
Furthermore, the Chester Bedframe provides a wide range of leatherette and fabric finishes to choose from. This extensive selection allows you to customise the bedframe to match your personal style and preferences, ensuring it seamlessly integrates into your bedroom's overall aesthetic.
Another noteworthy feature of the Chester Bedframe is its upgrade option to an ottoman. An ottoman bedframe offers additional storage space, making it an ideal solution for those with limited storage options or smaller bedrooms. You can easily store extra bedding, pillows, or other bedroom essentials, keeping your space neat and organised.
Delivered & fitted free
Huge range of leatherette and fabric finishes
Upgrade to an ottoman

Finance options available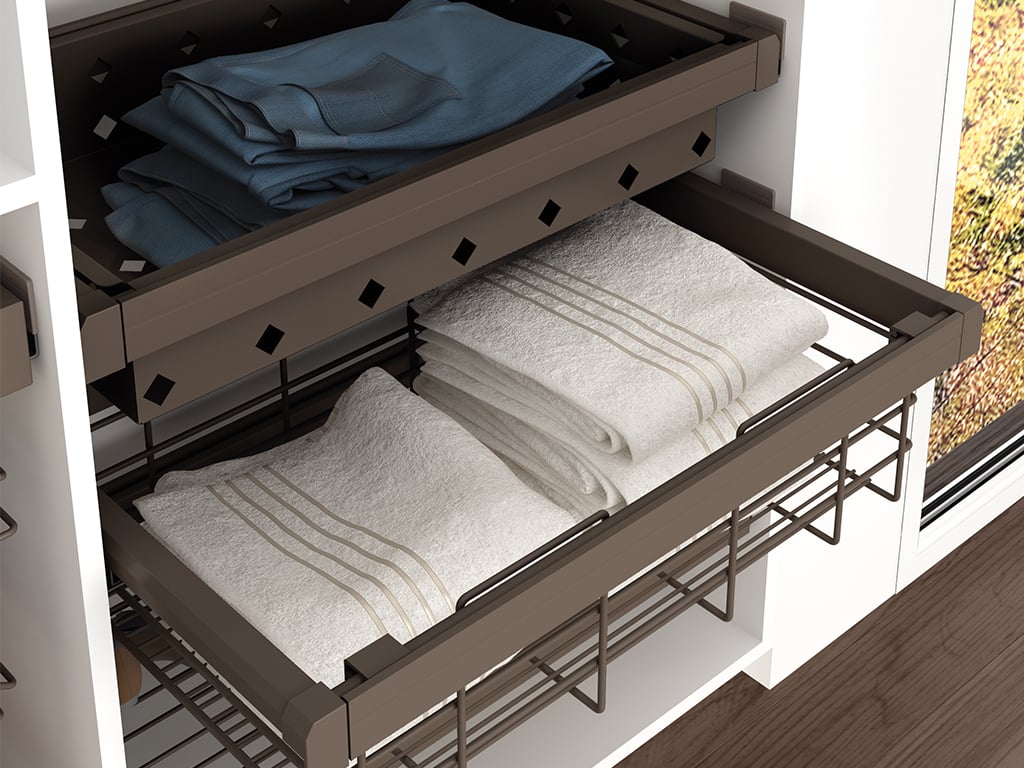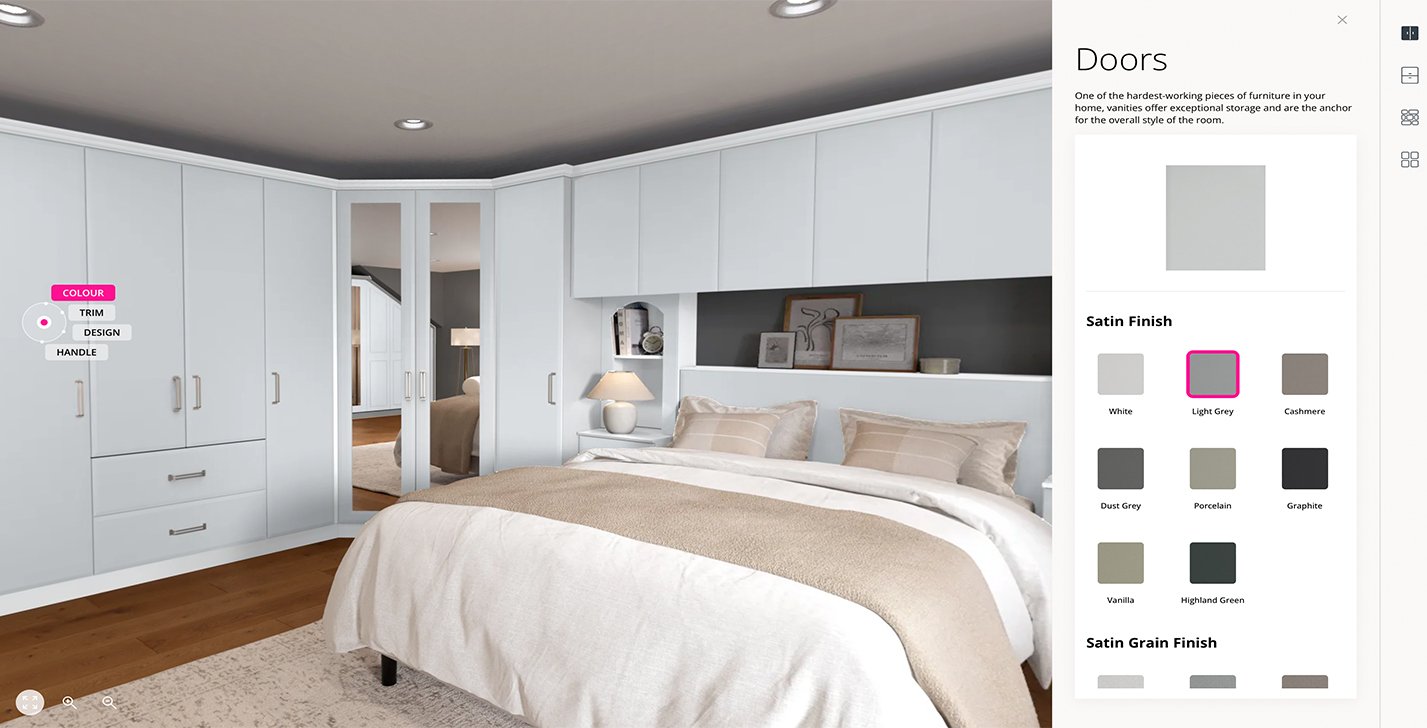 Fitted Bedroom
Virtual Visualiser
Play. Design. Save. 
Choose from over 25 different bedroom combinations; colours, trims, designs, handles, walls and floors. There's no limit to how many virtual designs you create. The tricky part will be deciding which one to go with! Once you've settled on one, complete our form, and our designers will turn your dream bedroom into a reality – usually within 6-8 weeks! 
Comfort, Style, and Storage with the Chester Bedframe in our Slate Grey finish
One of the notable characteristics of the Chester Bedframe is its exquisite slate grey finish, which offers a host of benefits for your bedroom decor. The slate grey colour exudes a sense of sophistication and elegance, instantly elevating the aesthetic appeal of your space. Its neutral tone complements a wide range of interior styles, making it a versatile choice for both contemporary and traditional settings.
The slate grey finish of the Chester Bedframe also provides a soothing and calming ambiance to your bedroom. This serene atmosphere promotes relaxation and tranquility, creating the perfect environment for a calm night's sleep. Whether you prefer a minimalist design or a more luxurious look, the slate grey hue effortlessly blends with different colour palettes and allows you to easily accessorise your bedroom according to your personal style.
Moreover, the slate grey finish is known for its ability to conceal minor imperfections and dirt, making it a practical choice for a busy lifestyle. With its natural resistance to showing marks and smudges, you can enjoy a bedframe that maintains its sleek and polished appearance with minimal effort. This low-maintenance feature ensures that your Chester Bedframe remains in pristine condition, saving you time and energy on cleaning and upkeep.
In addition to its aesthetic appeal and practicality, the slate grey finish of the Chester Bedframe also offers long-lasting durability. The high-quality materials and expert craftsmanship ensure that the bedframe withstands daily use and retains its elegance over time. You can rest assured knowing that your investment in the Chester Bedframe will provide you with years of reliable service and enduring style.
We offer a comprehensive range of fitted bedroom solutions to transform your space into a haven of relaxation and organisation. With our Virtual Visualiser tool, you can unleash your creativity and design your dream bedroom layout. Play with different configurations, experiment with colours and finishes, and save your favourite designs for future reference. This innovative tool allows you to visualise the Chester Bedframe in your bedroom ensuring every detail is perfect before making a purchase.
Don't miss out on the opportunity to enhance your bedroom with the stylish Chester Bedframe. Browse our website now to explore the various options available and take advantage of our finance options to make your purchase even more convenient. With flexible financing, you can bring home your dream bedframe without straining your budget.
Upgrade your bedroom with Starplan and experience the perfect blend of style, comfort, and functionality. Our team of experts is ready to assist you in finding the ideal bedframe that meets your unique needs and preferences. Visit your local Starplan store today, browse our extensive collection, and transform your bedroom into a haven of style and relaxation.