Riva Oak Davenport Design Double Sloped Fitted Bedroom
Bespoke Fitted Bedrooms: Porcelain Grain and Riva Oak Trim Sloped Lisbon Design Fitted Bedroom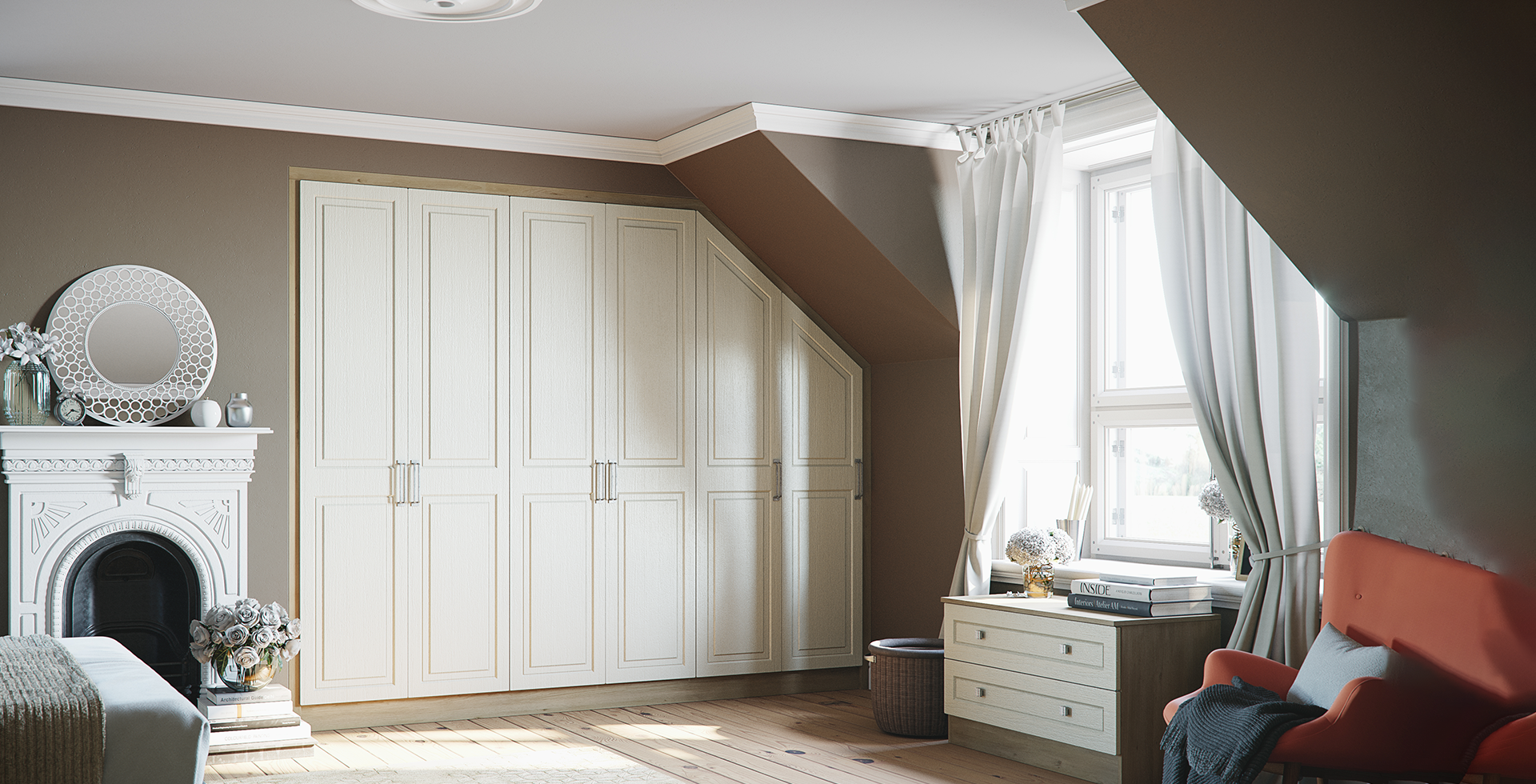 Porcelain Grain & Riva Oak Trim Sloped Lisbon Design Fitted Bedroom
All of the bedrooms we create are bespoke for every single bedroom space. No matter how big or small, how straight or sloped.
However, if you do have a sloping ceiling or an awkward space, then fitted bedrooms are perfect for you as they're designed to fit perfectly into that space.
All of our bedroom furniture is manufactured at our very own factory. That means we cut out the middle man whilst keeping our prices low and in turn creating  bespoke pieces.
All internal wardrobe storage can be customised for your needs. So if you're looking for extra shoe storage or more space to hang your shirts, we can get that installed for you.
Receive a FREE bedroom design from one of our expert designers
Modern sophistication
Intelligent storage solutions including shoe racks, pull down rails and many more!
Delivered & fitted free
Huge range of finishes, door designs & handles
Wide range of accessories to match
up to 10 year guarantee

Spread the cost with our Interest-Free Finance at

0% APR Representative

with our fitted bedrooms!

We also offer

up to 10 years finance at 9.9% APR

on all purchases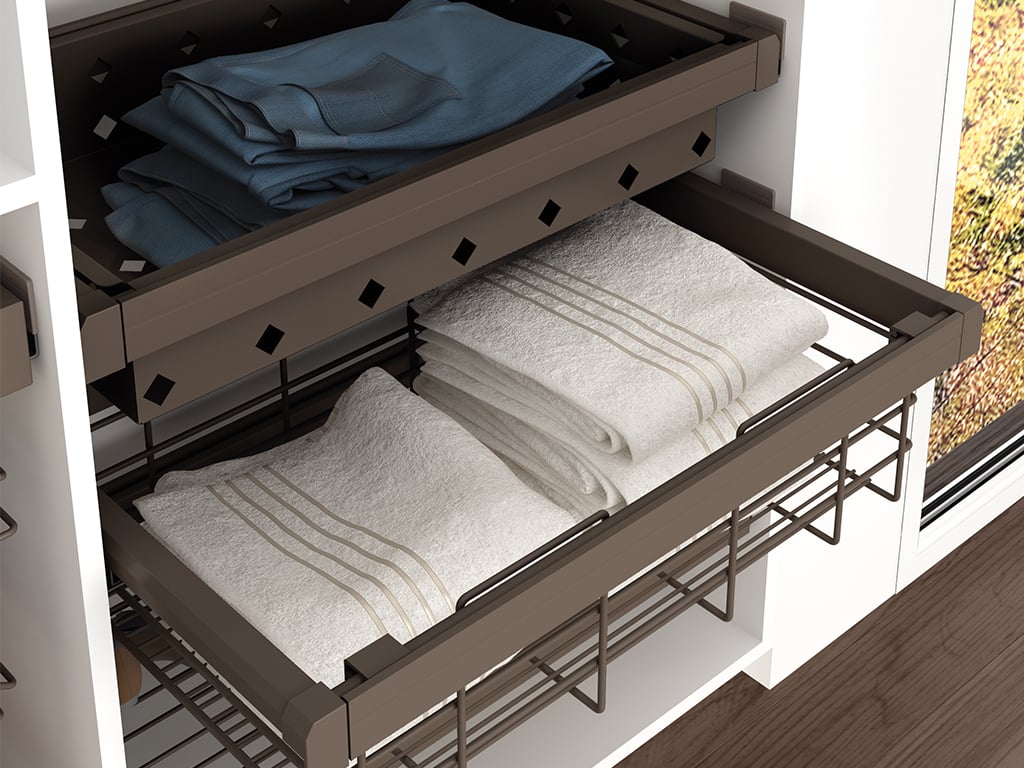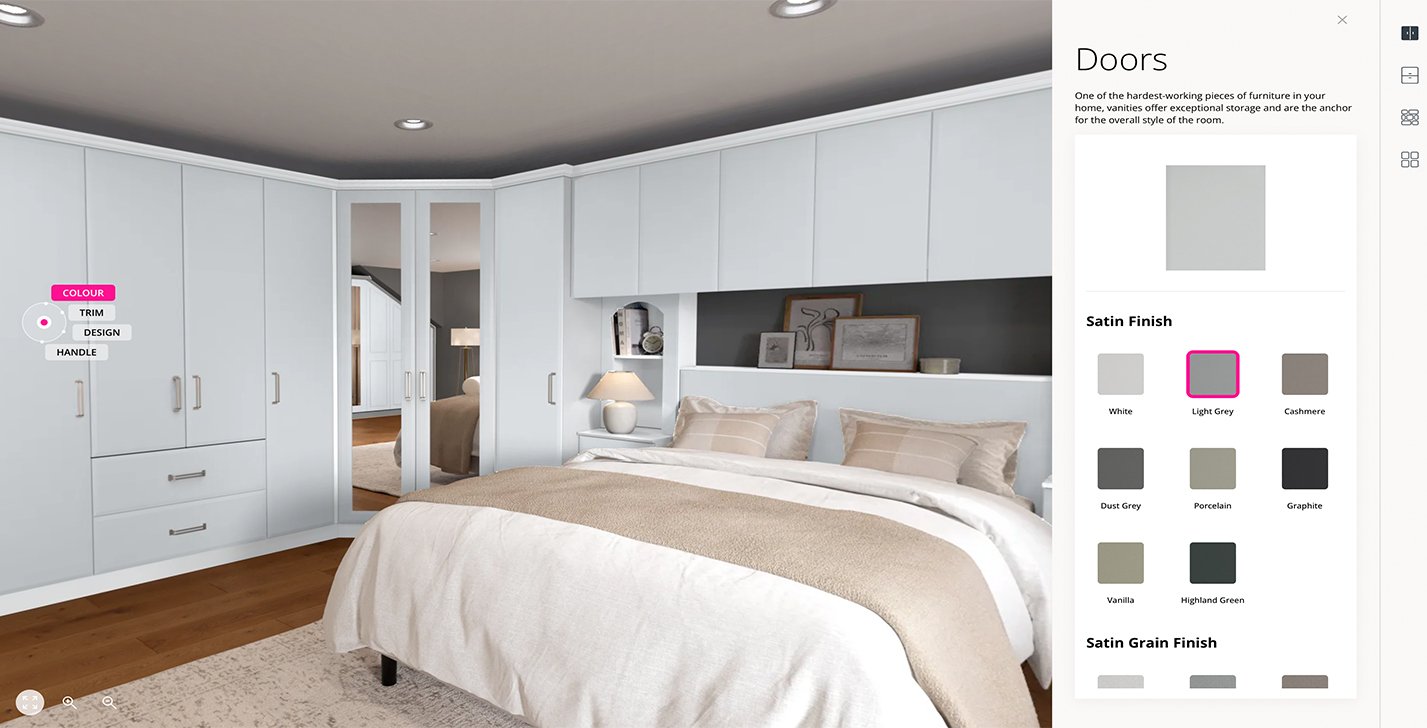 Fitted Bedroom
Virtual Visualiser
Play. Design. Save. 
Choose from over 25 different bedroom combinations; colours, trims, designs, handles, walls and floors. There's no limit to how many virtual designs you create. The tricky part will be deciding which one to go with! Once you've settled on one, complete our form, and our designers will turn your dream bedroom into a reality – usually within 6-8 weeks! 
Fitted Wardrobes and Bedroom Showrooms
If it's time to upgrade your current wardrobe situation, then our showrooms are the places to go. To find your local Starplan showroom, click here.
Bespoke Luxury with our Riva Oak Trim Lisbon Design Fitted Bedroom
Our skilled bedroom fitters are ready to bring your vision to life, creating a customised retreat that perfectly fits your space, even with a double slope.
At Starplan, we understand that every bedroom is unique. That's why our team of experts specialises in creating bespoke designs that cater to your specific needs and preferences. Whether you have challenging angles or irregular spaces, our skilled craftsmen will transform your bedroom into a functional and stylish haven.
The Porcelain Grain finish exudes a sense of tranquility and sophistication, while the Riva Oak Trim adds warm and inviting tones. The combination of these elements creates a harmonious and welcoming atmosphere that invites you to unwind and relax in your personal sanctuary.
Our attention to detail is second to none. We take pride in delivering exceptional craftsmanship and ensuring that every aspect of your fitted bedroom is meticulously tailored to your requirements. From the layout to the storage solutions, each element is carefully designed to maximise functionality and enhance the overall aesthetic appeal.
With our double slope expertise, we can tackle even the most challenging spaces, utilising every inch of available room. Our team's extensive experience in working with sloped ceilings ensures that your fitted bedroom seamlessly integrates with the unique architectural features of your space.
Indulge in the warmth and sophistication of our Porcelain Grain with Riva Oak Trim Lisbon Design Fitted Bedroom. Let our skilled bedroom fitters bring your dream bedroom to life, transforming your space into a personalised retreat that reflects your style and provides the ultimate comfort. Experience the beauty of bespoke design and create a bedroom that is truly one-of-a-kind.