Porcelain & Riva Oak Lisbon Design Fitted Bedroom
The Perfect Harmony of Serenity and Sophistication with Our Porcelain and Riva Oak Lisbon Design Fitted Bedroom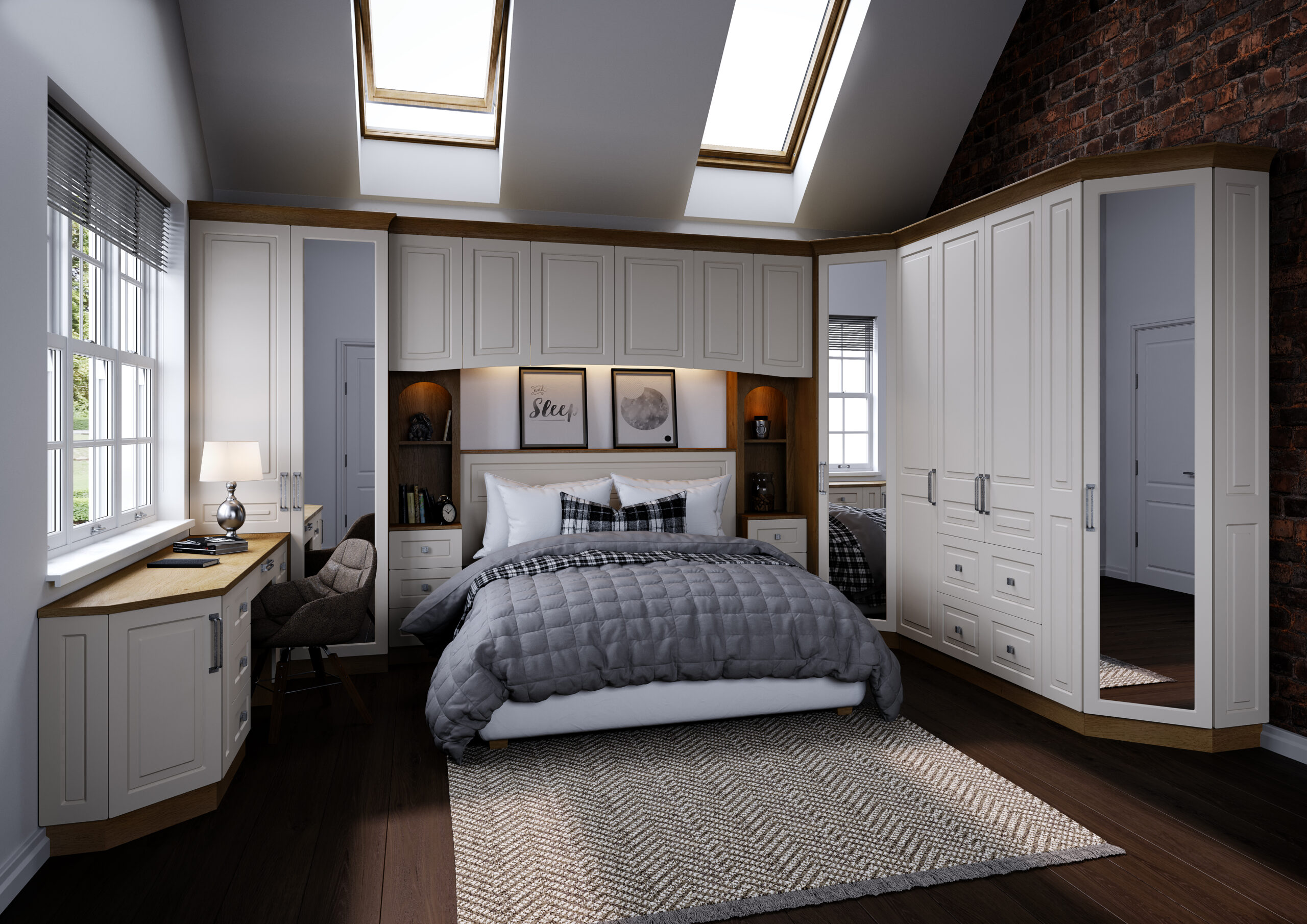 Porcelain & Springfield Oak Lisbon Design Fitted Bedroom
Our Riva oak fitted bedroom design is the perfect mix of storage and stylish. The oak trimmings add a touch of rustic to an otherwise classic design. All of our fitted bedrooms can be personalised to fit your interior design dreams. You're also able to personalise your internal storage space to make sure you have room for everything!
Receive a FREE bedroom design from one of our expert designers
Modern sophistication
Intelligent storage solutions including shoe racks, pull down rails and many more!
Delivered & fitted free
Huge range of finishes, door designs & handles
Wide range of accessories to match
up to 10 year guarantee

Spread the cost with our Interest-Free Finance at

0% APR Representative

with our fitted bedrooms!

We also offer

up to 10 years finance at 9.9% APR

on all purchases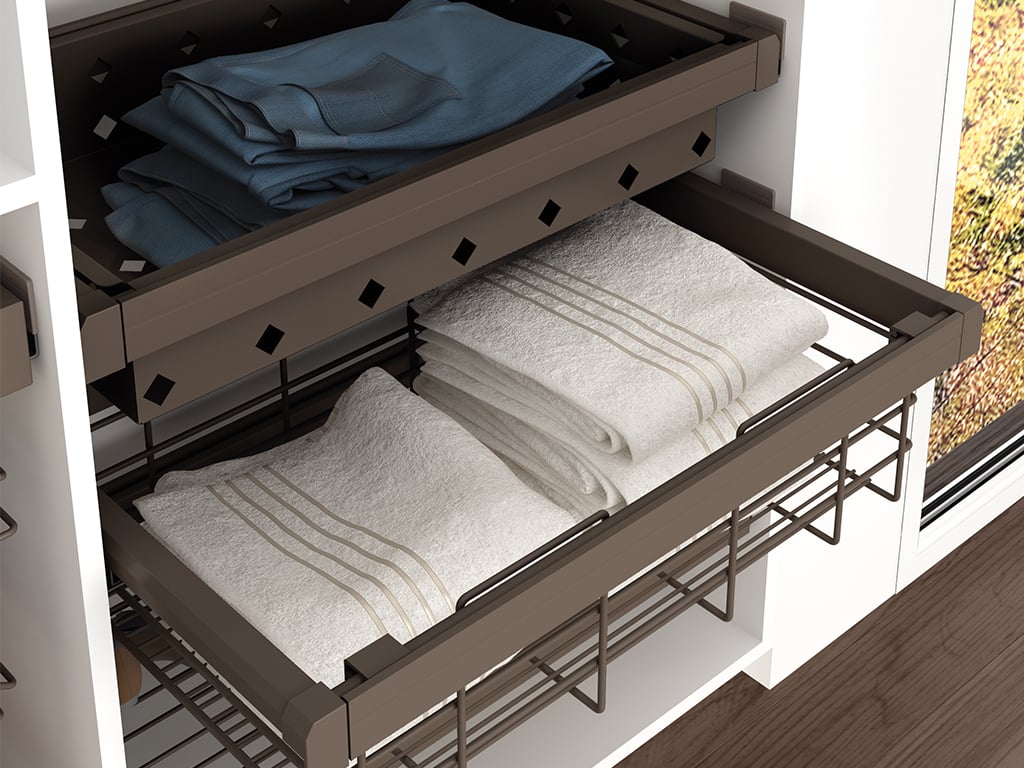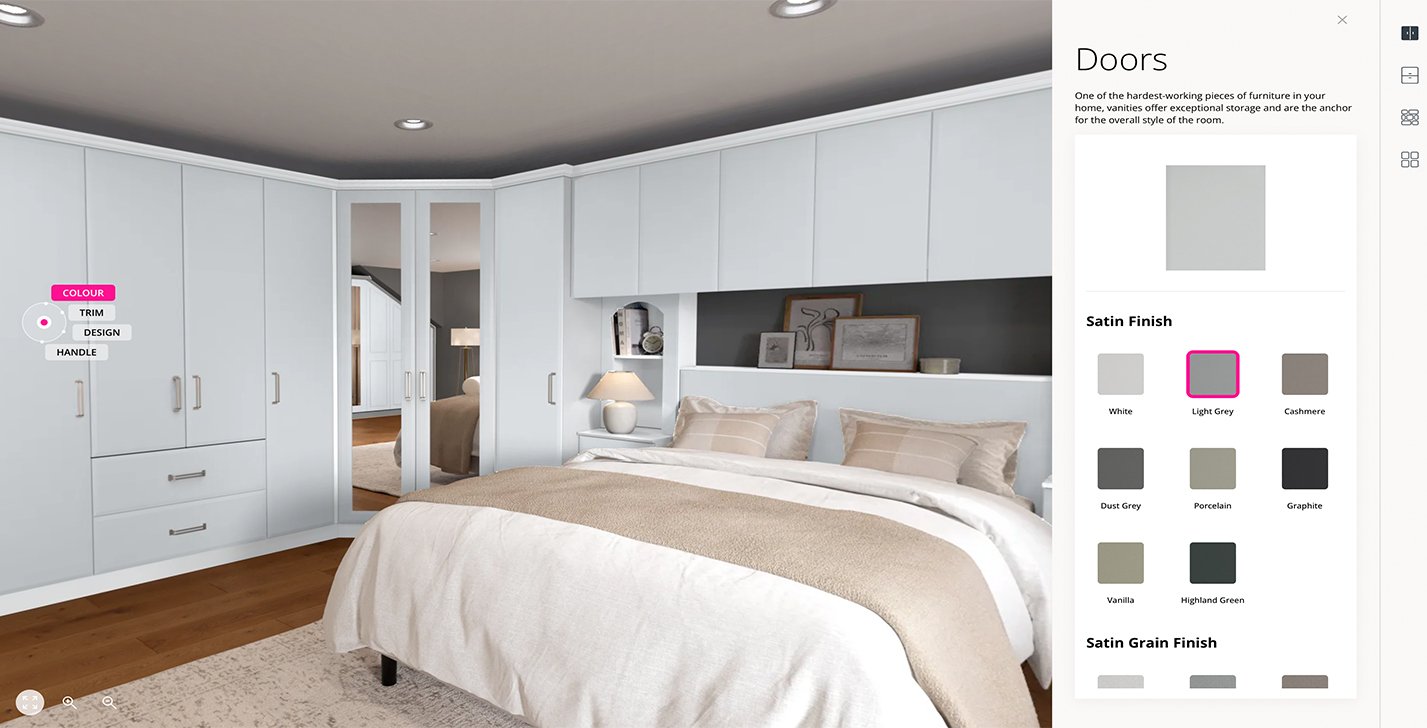 Fitted Bedroom
Virtual Visualiser
Play. Design. Save. 
Choose from over 25 different bedroom combinations; colours, trims, designs, handles, walls and floors. There's no limit to how many virtual designs you create. The tricky part will be deciding which one to go with! Once you've settled on one, complete our form, and our designers will turn your dream bedroom into a reality – usually within 6-8 weeks! 
Fitted Bedrooms
There are two ways to start the journey to your fitted bedroom, either head to your local showroom or book in for a free, no obligation home design visit.
We have showrooms scattered across the whole of the UK including , Sale, Cannock, Dungannon and Portadown. To find your local showroom and all relevant information, please click here.
However, if you're unable to make it to a showroom, our team can come to you! One of our design experts will come to your door at a time and date that suits you. They will then carry out all the room measurements and then talk you through all designs that fit into your space and budget.
Elevate Your Bedroom with the Perfect Blend of Style and Functionality
Step into the world of modern sophistication with our Porcelain and Riva Oak Lisbon Design Fitted Bedroom by Starplan. This stunning fitted bedroom offers a perfect fusion of contemporary design and functional versatility, providing a harmonious blend of style and practicality for any bedroom.
The bespoke feature of this design is the spacious desk, thoughtfully integrated into the layout. It offers ample surface area for you to work, study, or pursue your hobbies with ease. The accompanying drawers and shelving units provide convenient storage solutions, keeping your essentials organised and within reach. Whether you need space for books, stationery, or personal belongings, this design ensures everything has its place.
The large wardrobe adds to the functionality of the room, providing generous storage space for your clothing and accessories. It features mirrors on some of its doors, adding both functionality and an illusion of expanded space to the room. The combination of the mirror and the white elements of the Porcelain finish creates a bright and airy atmosphere, promoting a sense of openness and tranquility.
The Porcelain finish, with its crisp white hue, exudes a refreshing and contemporary vibe, while the Riva Oak trim brings a touch of warmth and natural beauty to the overall design. The harmonious blend of these two elements creates a neutral palette that seamlessly complements any bedroom decor, making it suitable for a wide range of personal styles and preferences.
Whether you have a small or spacious bedroom, this design uses any available space brilliantly, being highly functional without compromising on aesthetics. It offers a clean and streamlined look that brings a sense of calm and serenity to your sleeping quarters.
Experience the perfect marriage of style and functionality with our Porcelain and Riva Oak Lisbon Design Fitted Bedroom. Its modern aesthetic, versatile storage options, and neutral color palette make it a timeless choice that effortlessly adapts to your lifestyle and personal taste.